Love Balm for My SpiritChild – Theater Performance
November 30, 2012 @ 8:00 pm
|
$12
Event Navigation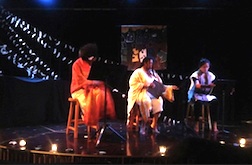 Love Balm for My SpiritChild is a performance piece based on the testimonies of Bay Area mothers that have lost children to acts of violence.
The Love Balm Project began as a 4-part workshop series for mothers who have lost children to systemic violence. Love Balm for My SpiritChild was inspired by the revolutionary acts of mothers fighting for justice for their children living and dead. It was specifically inspired by how mothers' memory has served as a vehicle for justice in the cases of the Rwandan Tutsi Genocide, Oscar Grant III Amadou Diallo, and Emmett Till. The inaugural workshop series and staged reading took place at 7Stages Theatre in Atlanta, Ga and featured the testimonies of 6 Atlanta mothers.
The Love Balm Project works to provide a space for commemorative justice. It steps beyond the framework of capturing testimony in the judical sense and creates spaces for communities to remember, witness, imagine and organize. It creates a space for mothers to not only create a healig process, but also network knowledge and resources to support other forms of violence prevention and awareness.
---