Peacock Rebellion presents Agen(c)y: Nonprofit Dreams & Disasters
November 9, 2012 @ 7:30 pm
|
$10
Event Navigation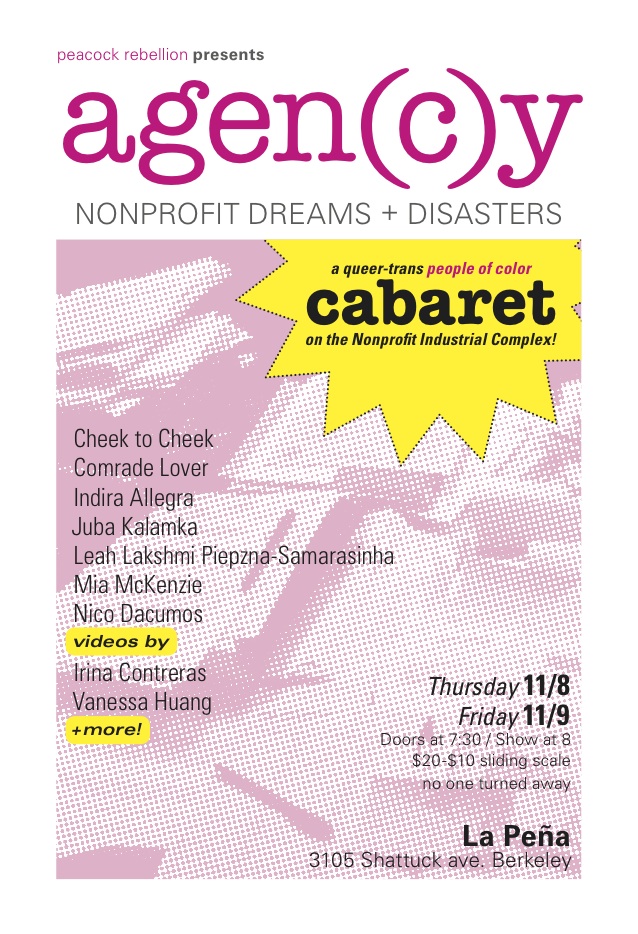 A queer + trans people of color cabaret on the nonprofit industrial complex.
Curated by Maya Chapina and Manish Vaidya.
The very first show of PEACOCK REBELLION
(sassy sexy arts for social+economic+environmental justice)
Wheelchair-accessible. Please come fragrance-free
Sponsored by:
INCITE!
Mangos With Chili
POOR Magazine/Prensa POBRE
Queer Rebels
QWOCMAP
Featuring:
Cheek to Cheek
Comrade Lover
Indira Allegra
Irina Contreras
Juba Kalamka
Leah Lakshmi Piepzna-Samarasinha
Manish Vaidya
Mia McKenzie
Nico Dacumos
Vanessa Huang
Does your boss want you to beg cops for a police brutality protest permit on your lunch break?
Can no one at the staff meeting tell you why the mission statement language changed from "social justice" to "civic engagement?"
Is your big queer longing to change the world buried under that overdue grant report to the Coors Foundation?
You dream bigger than this.
Tickets:
http://agency.bpt.me/
Promo video:
http://www.youtube.com/watch?v=wnjyaAGfWqM
More info:
http://www.facebook.com/events/403008809754935/
How to be fragrance-free:
http://www.brownstargirl.org/1/post/2012/03/fragrance-free-femme-of-colour-realness-draft-15.html
---