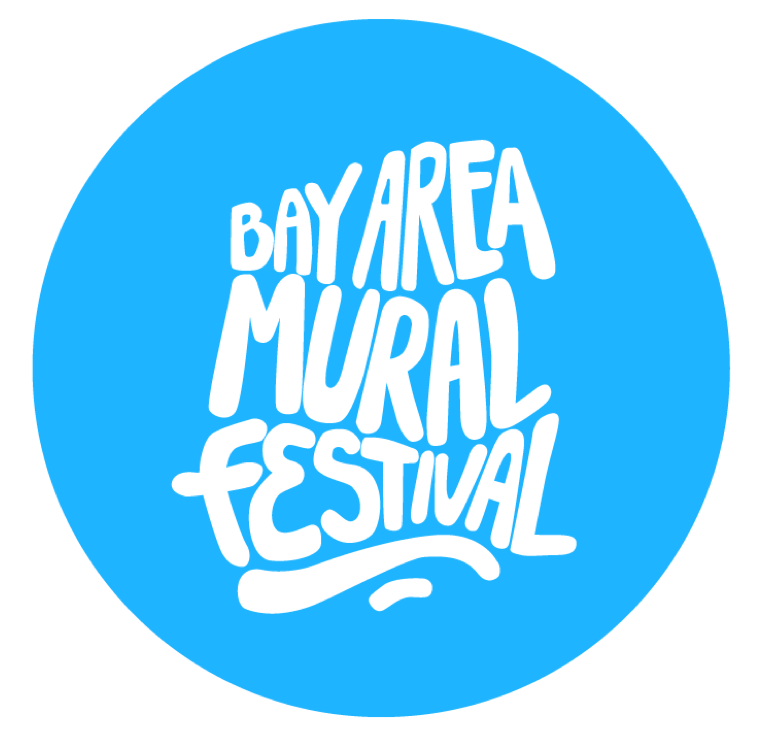 Mural Artist Submissions are due August 7, 2017
The Bay Area Mural Festival, slated for October 2-8 in Richmond, is now accepting artist applications to participate in BAMFest 2017. The deadline to apply is now through August 7, 2017.
With support from the California Arts Council, La Peña Cultural Center has partnered with Los Pobres Artistas mural group, Richmond Art Center, Earth Team and other invited artists and organizations to produce the 2nd Annual Bay Area Mural Festival (BAMFest 2017) this fall.
BAMFest will bring together 10 master muralists and 2 East Bay youth groups through a series of artist residencies and workshops culminating in the painting of 10 environmentally themed murals.
Artists will paint for one week and end the festival with a closing celebration at the Richmond Art Center Sunday, October 8, 2017 from 1pm-5pm with speakers, community painting, and performances by local musicians and dancers, which will be open to the public.
How to apply:
Visit

www.bamfest.org

and click on the "

Call to Artists

" tab.

Fill out and submit the form by Monday, August 7th, 2017.

Richmond-based artists are particularly encouraged to apply.

Final decisions will be made by a panel of artists and Richmond community members, artists will be contacted at the end of August.

Artists will be compensated for their work.

Please email questions to Sarah@bamfest.org with the subject "Bay Area Mural Festival artist application."
The 2nd Annual Bay Area Mural Festival will use the mural arts to engage East Bay youth, local Bay Area artists and the Richmond community through beautification and placemaking activities. The festival will produce 8 professional murals and 2 youth designed murals to call attention to issues of environmental degradation, pollution and climate change. The project will engage 10 local California mural artists, 8 working on their own projects and 2 as teaching artists. The teaching artists will work with local youth in Richmond in hands-on arts training activities leading to the preparation and execution of the mural festival.
"BAMFest 2017 provides employment to California muralists as well as arts training opportunities and workshops for local youth that are battling poverty and youth joblessness. Plus, it promotes cultural diversity and opportunities to foster more community engagement in the Bay Area," said Sarah Siskin, BAMFest's project coordinator and a member of Bay Area mural group Los Pobres Artistas.
"We are excited to be partnering with the Richmond Arts Center and other local organizations to have as much of a positive impact as possible for the Richmond community, as well as participating youth, artists and local businesses," she added.
Richmond's population is 80% non-white, largely poor and working class, and has been pushing back against Big Oil for over a decade to reclaim their community. (Source: Refinery Town by Steve Early, 2017)
La Peña Cultural center's Co-Directors Natalia Neira and Bianca Torres issued a joint statement: "The Bay Area Mural Festival is an extension of La Peña's mission to create peace and social justice through accessible cultural arts, education and community action. BAMFest 2017 is an opportunity to creatively respond to a global environmental crisis with very real local effects to the air we breathe and the water we drink."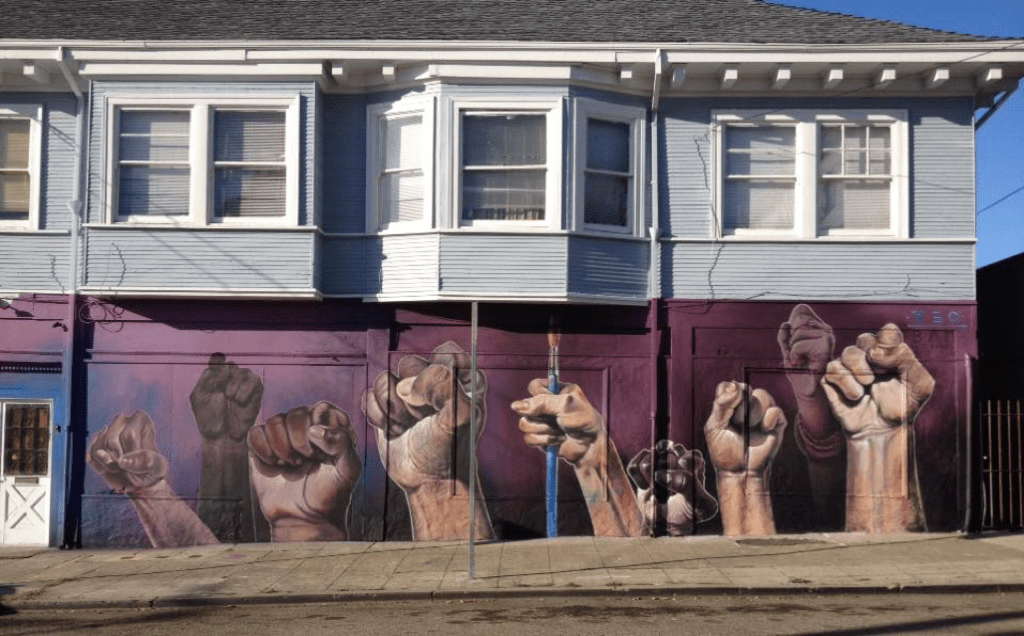 Pictured left: One of thirteen murals created on the Berkeley-Oakland Border for 2016 BAMFest.  Artist: Teo Vidaingravita. Location: 3027 Adeline St. Berkeley, CA
The California Arts Council awarded $36,900 to La Peña Cultural Center to fund the 2nd annual Bay Area Mural Festival (BAMFest 2017) as part of its Creative California Communities program. While the grant covers most of BAMFest's financial needs, the festival still needs to fundraise to match grant expenses. Upcoming fundraisers will be announced on the festival's website: www.bamfest.org.
The Bay Area Mural Festival is one of just 26 grantees chosen for the California Arts Council's largest and most competitive grant program, which received applications from 98 organizations statewide. The program supports collaborative projects that harness arts and culture as a creative placemaking strategy. Projects will benefit residents and visitors by utilizing area artists, cultural organizations and arts-related businesses to address community needs or priorities.
All Creative California Communities projects are designed by a nonprofit arts organization, developed in partnership with at least one partnering organization, and place California artists and their work at the center of the project's design and implementation. The program has a two-year grant cycle, funding projects taking place between June 2017 and June 2019.
"The transformative nature of the Creative California Communities program is so powerful. It's thrilling to see grantees use the arts and creative expression to reinvigorate spaces, and by extension, area residents and visitors," said California Arts Council Chair Donn K. Harris. "The potential a creative placemaking project like BAMFEST 2017 has to inspire and rejuvenate a community is truly immeasurable."
The news of La Peña's BAMFEST 2017 grant was featured as part of a larger announcement from the California Arts Council, which can be viewed online at http://arts.ca.gov/news/pressreleases.php. To view a complete listing of all Creative California Communities grantees, visit http://arts.ca.gov/programs/files/CAC_CCC_Grantees_2016-17_FINAL.pdf.
The mission of the California Arts Council, a state agency, is to advance California through the arts and creativity. The Council is committed to building public will and resources for the arts; fostering accessible arts initiatives that reflect contributions from all of California's diverse populations; serving as a thought leader and champion for the arts; and providing effective and relevant programs and services.
Members of the California Arts Council include: Chair Donn K. Harris, Vice Chair Nashormeh Lindo, Larry Baza, Phoebe Beasley, Christopher Coppola, Juan Devis, Kathleen Gallegos, Jaime Galli, Louise McGuinness, Steven Oliver, and Rosalind Wyman. Learn more at www.arts.ca.gov.
Last year the California Arts Council awarded La Peña funds to create the first Bay Area Mural Festival, which created 13 new murals in the Berkeley-Oakland border. Visit the BAMFEST website to see a map of the new murals, pictures, artist bios and more: http://bamfest.org/
BAMFest 2016 Mural Map: