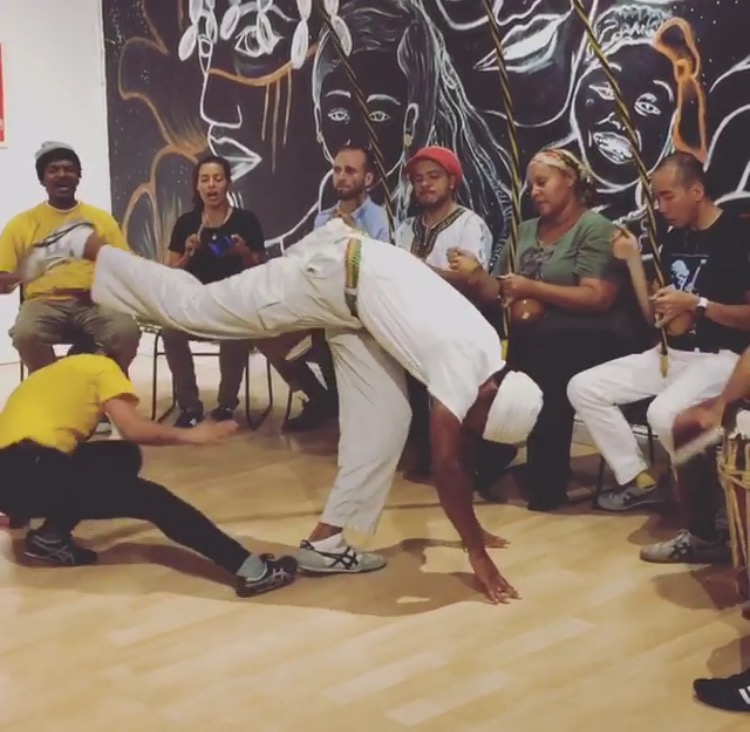 Tuesdays 7pm-9pm & Saturdays 2pm-4pm
Instructor: Sergio Bitencourt
For more information: sergiobitencourt81@gmail.com
Capoeira Angola, a martial art and ritual combat dance, is one of the major expressions of an African, specifically Kongo-Angolan, continuum in Brazil. It is believed that its origins may go as far back as the 16th century, when Africans from western Central Africa were enslaved and taken to Brazil, specifically Salvador and the surround Recôncavo region.
In its history and practice, Capoeira Angola reflects the philosophy and aesthetics of its origins. Similar to many traditional African traditions, there are no clear-cut distinctions between the sacred and secular, work and play, fight and fun. Capoeira Angola integrates music, movement, theatrics, play, martial arts, philosophy, and spirituality. In the past, Capoeira Angola has been passed down from master to student orally.
Similar to the teachings of Mestre Pastinha, one of the central figures to the preservation and transmission of Capoeira Angola, I teach Capoeira Angola as a path to self-knowledge and a way of life. Central to my teachings is the shared belief that Capoeira Angola is more than physical confrontation and can serve as a vehicle for the development of ethnic pride and the fight for human rights. Within Capoeira Angola is the history of the political and cultural resistance and struggle of Afro-Brazilians and their role in the formation of Brazilian society.
Different from other traditions of martial arts, music is essential to play Capoeira Angola; without it the game is unimaginable. The intimate relation between music, movement, play, and spirituality facilitates the integration of the body and mind of the capoeirista while contributing to the playful character of the game. The traditional orchestra of Capoeira Angola as it has come together in Brazil, consists of three berimbaus of different pitches, two pandeiros (tambourines), one agogô (double bell), a reco-reco (a notched bamboo scraper), and an atabaque (tall drum). The berimbau is the most important instrument in the orchestra, serving as the musical heart of Capoeria Angola. The berimbau is a musical bow with a single string and a gourd resonator which has come to symbolize the authority of the capoeira mestre (master).
From an outlawed practice associated with criminality, Capoeira Angola has expanded throughout Brazil and the world. Capoeira Angola is an artform in which all can participate, regardless of age, race, gender, religion, sexuality, etc.