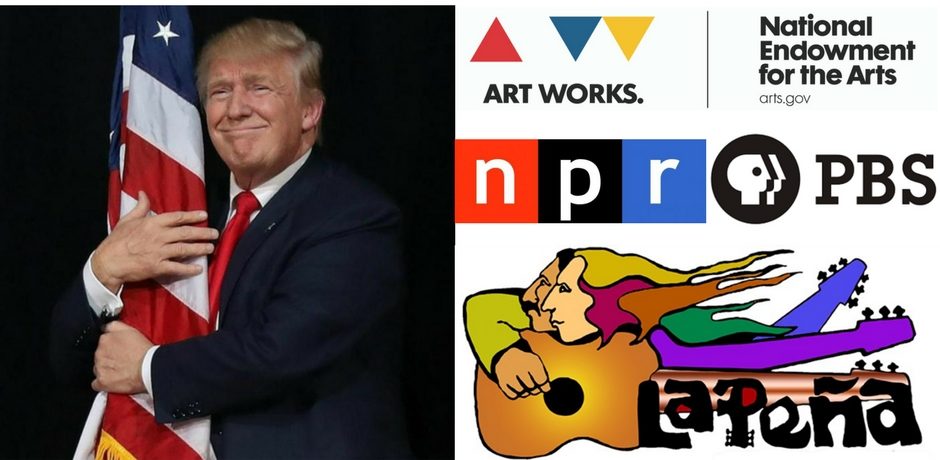 Dear La Peña Community,
The Hill reported on January 19 that President-elect Trump's budget blueprint (slated to be released in April) would eliminate funding for the National Endowment for the Arts, National Endowment for the Humanities, and several other programs and agencies with the goal of reducing federal spending by trillions over the next decade.
The NEA has funded La Peña's special projects for over 30 years, helping hundreds of local artists create new works, funding community events such as the "Immigrant Dreams" series, and is tied financially to the California Arts Council, which funded the Bay Area Mural Festival, just to name a few grants La Peña has received through the NEA.
La Peña has received federal grants through NEA that have helped develop artistic groups and helped sustain our mission of social justice and cultural understanding through the arts. In total we have received 58 awards involving over 200 performances and close to 1,000 artists , totaling $1,200,000.  That is amazing. We can continue to do our work with your help.
Do you want to help La Peña?
1. SIGN THIS PETITION:  DO NOT DEFUND THE NEA & NEH
2. CALL YOUR CONGRESSPERSON: Call 202-224-3121 to be directed to an operator at the Capitol switchboard. Let them know you are calling to ask that the White House to not defund the National Endowment for the Arts (NEA) or the Endowment for the Humanities (NEH) because they are critical in funding local programming in our communities (Public Radio and Arts organizations like La Peña.)
3. DONATE TO LA PEÑA ONLINE:

 Your tax-deductible donation of any amount helps La Peña offer free or low-cost community events, support a multitude of cultural traditions, progressive movements, and keep alive peoples' histories.
Thank you for supporting social justice through the arts!  Every one of us doing our part will make a HUGE difference!
In solidarity,
Paul Chin (Interim Director), LP Staff, Interns, and Board