Interested in getting involved?
La Peña has survived for 41 years because of our volunteers, as we have only a small paid staff. Volunteers staff our programs, help with publicity and office work, paint and repair the building, organize programs, and help with fundraising activities. If you have time or a skill to share with us, please call or come to let us know.
Connect with us:
La Peña Cultural Center
Email: alison@lapena.org
Phone: 510-849-2568
Volunteer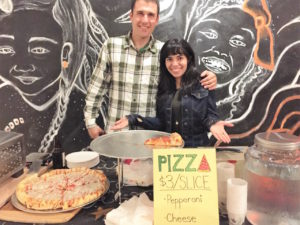 Volunteers have played a vital role in the life of La Peña. Volunteers have the opportunity to experience the amazing art, culture, politics, and community of La Peña while making an important contribution. Our greatest need for volunteers is the staffing of our weekly Thursday through Sunday evening programs. Volunteer program staffing involves set-up/tear-down for events, greet guests as they arrive, and take tickets at the door while enjoying a free show!
Volunteers can play other roles at La Peña as well, including assisting with special projects, fundraising, publicity, office work, facilities maintenance, etc. The center benefits from community involvement and having donated labor keeps our center affordable to many people. Volunteer twice a month and earn free admission to all La Peña programs.
For 40 years La Peña has counted on volunteers. We need your help to staff our programs, aide in grassroots publicity, participate in fundraising activities, bulk mailings, and much more.
Internship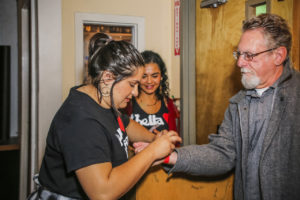 Without the help of volunteers and interns, La Peña Cultural Center would not be able to present over 200 art shows a year and offer more than 15 art classes. The help of volunteers and interns is crucial for La Peña. Interns are required to commit 10 hours per week for a minimum of 3 months to the organization.
Internship Opportunities:
Program Staffing: Staffing our evening programs includes working with the House Manager to set and clean up the house, work as an usher and/or sell tickets during the program. All interns would be expected to spend a portion of their hours doing this work and could learn to be house manager themselves.
Programming Support: Work with Program Coordinator to book programs, respond to potential performers/groups, coordinate logistics for programs, etc. Help initiate/organize special programming initiatives, series, festivals, etc.
Community Outreach/Publicity: Work with Publicity Coordinator on outreaching to the media, writing press releases, etc.
Graphic Design: Designing flyers, posters and other publicity materials for La Peña programs. This would involve working with La Peña's Publicity and Program Coordinators.
Web Design/Development: Supporting the process of re-designing our website and working with staff to regularly update it. Helping to train staff in software that will make web design easy (depending on intern's own skills).
Program Documentation: Video/audio/photographic documentation of La Peña's programs. Could include video and/or audio recording of La Peña's programs and editing them for multiple uses, including general publicity, posting on our website, etc.
Fundraising: Work with Development Director and Development Associate in planning/organizing fundraising activities, including annual fundraising benefit, house parties, raffle, etc.
Administrative Work: Support staff in day-to-day work of nonprofit administration, including processing donations, database maintenance, etc.