La Peña Staff
Bianca Torres, Co-Executive Director (Productions, Operations & Development)
Bianca is a proud native of California with Mexican and Puerto Rican roots. She graduated with her bachelor's degree in Sociology in 2009. She has 15 years of experience working in the music industry which include radio, record labels, festivals, music conferences and managing music venues in both California  and New York City. Bianca first came to La Peña in 2010 as a volunteer and quickly took on bigger roles because the cultural center bridged her passions for music and social justice together. She has just recently returned to the Bay Area and is enthusiastic to be back at La Peña as a Co-Director.
Natalia Neira-Retamal, Co-Executive Director (Communications, Fundraising & Programming)
Natalia has worked as both Editor and Marketing Manager at the Santiago Times in Chile, and as Multimedia & Marketing Executive at the Dallas Observer. Born in Temuco, Chile, Natalia migrated to the US with her parents and sister when she was 7 years old. She grew up in Dallas, Texas where she studied Journalism and Public Relations at the University of North Texas, minoring in Women Studies and Spanish. She has been involved with La Peña since she moved to the Bay Area in 2015. She started as a volunteer and was then brought on as Communications Manager. In 2017 she and Bianca Torres were elected to lead the organization as Co-Executive Directors. She is honored to be entrusted with reorganizing La Peña's communications, fundraising and programming to better serve our diverse communities who make La Peña their home. Natalia is also excited about implementing outreach strategies and cultural events programming to continue to develop relationships with communities that could benefit from La Peña's mission.
Tara Dalbo, Productions and Development Coordinator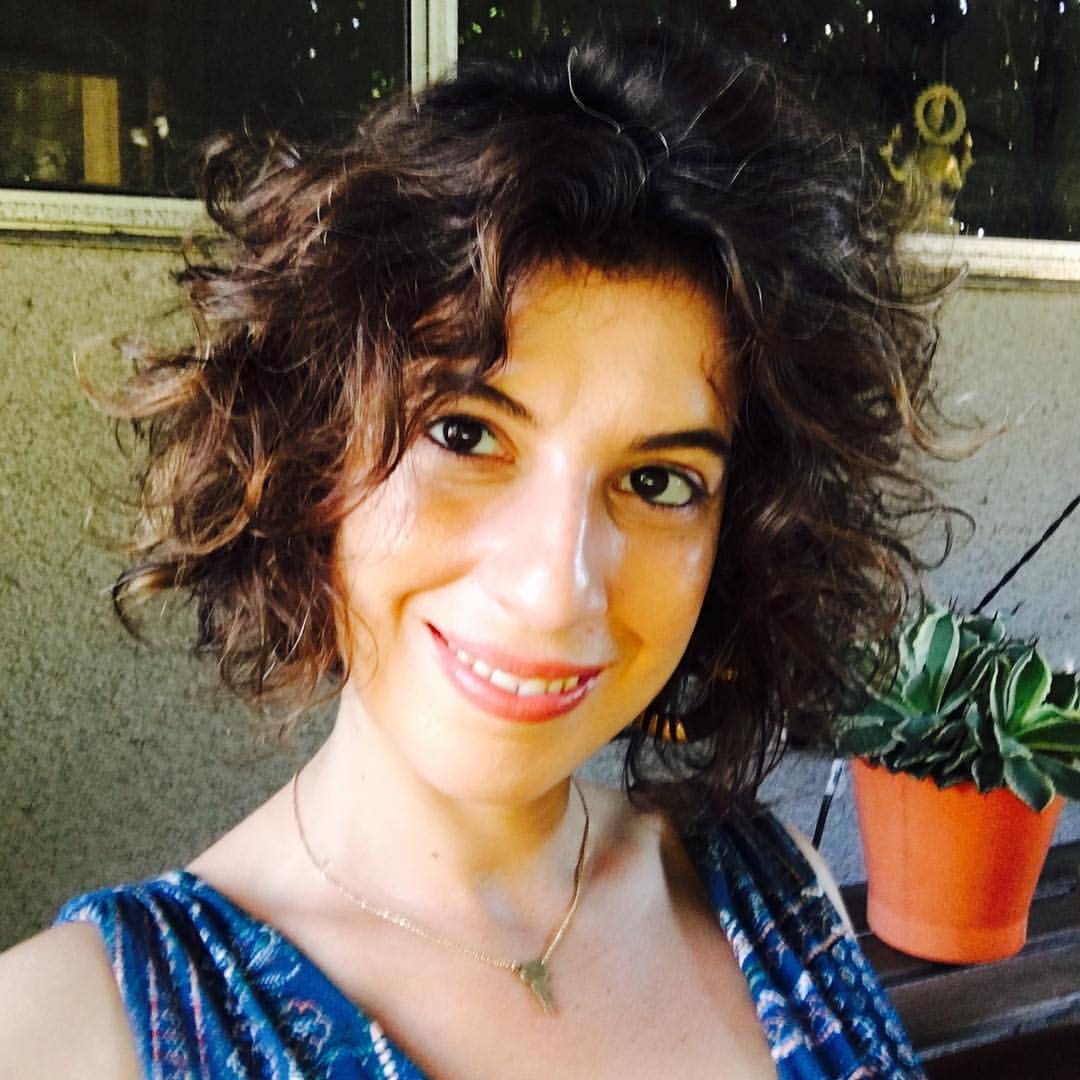 A graduate of Sarah Lawrence College in NY. Tara was a student of the arts, studying abroad for a year in Florence, Italy. Tara is of Spanish, Italian and Lebanese descent. She is a painter and illustrator. Her father was a jazz guitarist and her mother, an art therapist. Her diverse professional experience includes grant writing for the UC Berkeley School of Public Health nonprofit, Health Initiative of the Americas and consulting in the realm of business and public health. Tara has managed two noteworthy restaurants in San Francisco, Delfina and Pizzeria Delfina, located in the Mission. In addition, she has served as a case manager for developmentally disabled adults with Easter Seals El Mirador in Santa Fe, NM. While in Santa Fe, she worked for a hospital-run detox center, aiding recovering alcoholics and addicts. Her work reflects her interests in the arts, health, food and wine. Dance, theater, poetry, writing, music, culture and intellectual debate were at the heart of her upbringing and she is truly honored to aid the La Peña team in providing access to the arts within the East Bay community.
Angelo Monsalve Restrepo,  Community Outreach & Fundraising Ambassador
Until 2016, Angelo worked as an Account Manager at the largest Telecom Company in the country. He climbed the corporate ladder and held over 12 positions and received several accolades for his professional success. Angelo has worn many hats throughout his ten-year career at Verizon; from technician, to sales man, from trainer, to manager, to business consultant. Angelo left the stress of the corporate world in 2016 in pursuit of a life with a deeper meaning and impact. While backpacking through Central America he decided on what his next step would be on his journey. Angelo became a certified yoga instructor. He has over 300 hours of logged classes and training. In addition to working at La Peña Cultural Center, Angelo teaches yoga and mindfulness in San Bruno County Prison. Angelo hopes to bring his business savvy, corporate training and mindfulness practice to his position as an Outreach and Fundraising Ambassador. Together with the help of La Peña's Co Directors Angelo is focused on driving La Peña's bottom line and ensuring its presence in the community for another 45 years.
Meskerem Johnson, Technical & Facilities Manager
Meskerem Johnson (Meski), was born and raised in Seattle, Washington, and graduated from The Evergreen State College with her B.A in Film & Television Production. Growing up in the Pacific Northwest heavily shaped her fondness for music & arts, which led to her interest of working in live productions. She spent a significant amount of her childhood working on mechanical projects alongside her father, who is an Auto & Aircraft Mechanic. She follows closely in his foot steps as someone who works with her hands, like many members of her family. Since moving to Oakland in 2015, she has worked as an Audio Visual Technician at The Palace Hotel in San Francisco and as a Multimedia Technician at Stanford University, where she currently works part-time. In addition, she's currently a stagehand for the I.A.T.S.E Local 16 Union, where she works on a large variety of concerts, theater performances, trades-shows, and occasionally as a production assistant for film sets. Since living in the Bay Area, Meski has strongly engaged with the activist community and has since bridged her passion and skills for live sound & logistical production, with the peoples political work in the streets of Oakland. She has volunteered support with live sound & staging for rallies, marches, and community events. She is currently a co-coordinator for the Bay Area Chapter of AF3IRM, a transnational feminist women of color grassroots organization, whose focus is to build intersectional theory and lead a women's revolutionary resistance through an anti-imperialist, feminist lens. Recognizing the dedicated women that currently lead La Peña, Meski is very excited to be invited to join the team and contribute her skills to its continued growth.
---
La Peña Board Members
Paul B. Chin, La Peña Cultural Center Board President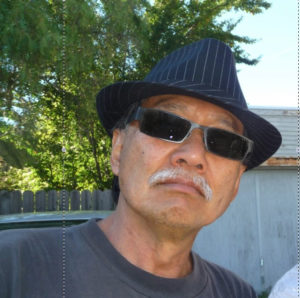 Paul Chin graduated from S.F State in 1971 with a degree in social sciences. Upon graduating, Paul traveled overland to Santiago, Chile to learn about the Chilean road to building a socialist society. After spending 6 months in Chile, he traveled to Sao Paulo, Brazil where he taught English for a year. Paul began volunteering at La Peña in 1977. In 1979 he was hired as Community Outreach Coordinator. He retired from the staff in 2013 and currently serves on the board of directors. In his 33 year history with La Peña, Paul served in many capacities: grant writing, volunteer coordination, special events coordinator, programmer, and publicist. Paul has represented La Peña on the California Arts Council arts panels, National Endowment for the Arts panels and has served on the board of California Presenters. Paul is bilingual (English and Spanish).
Ellen Salazar, La Peña Executive Committee, Co-Founder of Mandela High School and Lifelong Educator
Ellen grew up in Chicago and graduated from the University of Illinois in 1966 with a BS in biology and received an MS in microbiology in 1969. Her interest in the Spanish language and culture led to friendships with Latin American students and later to travel throughout Latin America, documenting her trips with insightful photography. She moved to the Bay Area in 1970 and in 1974 began her career as a bilingual high school math and science teacher in Oakland. In addition to teaching, Ellen was instrumental in the movement for small school reform in the 1980s and authored numerous education reform grants over the next two decades. In 2003, she co-founded Mandela High School, a small public school in East Oakland. She retired from teaching in 2009 and continues as a consultant for Mandela Law and Public Service Academy, funded by a state grant that she co-authored. Ellen started volunteering at La Peña in 1975 and was active in Bay Area Chilean solidarity groups throughout the dictatorship. She has been married for 35 years to a Chilean ex-political prisoner and is the mother of two daughters, both of whom are active in La Peña 2nd Gen.
Carmen Gloria Figueroa, La Peña Executive Committee, Chef-owner of El Meson de Violeta
Carmen was born in Santiago, Chile and was raised by her grandparents who sparked an interest and appreciation for simple honest cooking. Family gatherings often occurred around a modest but gratifying table; where grandpa would tell stories of his native Spain and his family's struggle with the Franco dictatorship that led many families to exile. As a child, Carmen was a first hand witness of the horrors and fear imposed by "La Junta Militar" and its devastating military coup in Chile in 1973. As an adolescent she participated actively in demonstrations and actions against the regime and later while attending Universidad Católica de Valparaiso, she became a student organizer.
Carmen moved to the States in 1991 where she raised a family and fulfilled her lifelong desire for a career in the Culinary Arts, graduating from The Restaurant School at Walnut Hill College, Philadelphia in 1994. Later on, she continued her culinary education at Culinary Institute of America, White Plains, New York. Since then she has held several positions in the industry, happily cooking and teaching young aspiring cooks. Her love of food as well as deep interest in sustainable agriculture and cooperative ventures along with the belief in the power of food and culture to bring people together has brought her to volunteer at La Peña since 2008, when she moved to the Bay Area.
Carol Pierson, Chair of the La Peña Board Finance Committee
Carol served as Board President and Treasurer for 8 years.  She returned to the Board in 2017. Carol Pierson was the President and CEO of the National Federation of Community Broadcasters and is now retired. She represented Community Radio at the national and regional level with Congress, the FCC, funders and networks as well as other national and regional organizations. NFCB's 250 members include a large number of rural and minority stations as well as independent producers and other broadcast organizations. Prior to NFCB Carol served as Program Director and Director of Radio Productions at KQED-FM in San Francisco for 10 years. She was at WGBH-FM in Boston for 8 years as Assistant Station Manager, Director of Operations and National Programming Director. Her radio career started at WYSO in Yellow Springs, Ohio where she was Public Affairs Director and Assistant Manager for 3 years.  Carol has sung with La Peña's Community Chorus since 1985. She has served on a number of Boards including the Jefferson PTA, Media and Democracy Coalition, Western Public Radio and the Women's Philharmonic Orchestra. She was a founding member of the National Lesbian and Gay Journalist Association.
Tania Figueroa, Board Member, Independent Community-Based Social Marketing Consultant
A native of Chile, Tania graduated from the Catholic University of Chile, DUOC.UC, in 2004 with a B.A. in advertising and received a M.A. in consciousness and transformative studies with emphasis in culture and consciousness from John F. Kennedy University in 2014.
She moved to Berkeley in 2004 after she presented an idea to the Chilean government to create a cultural connection with Chilean artists in the Bay Area through a cultural/art exhibit at the World Affairs Council. After her arrival, Tania became an active member of La Peña Cultural Center. Her family has been involved with La Peña since its early days when her uncle moved here after the coup d'état.
She has worked for many years at different organizations such as the San Francisco AIDS Foundation, UC Berkeley, Mission Cultural Center, and in private and public schools in the East Bay as an independent consultant in community-based social marketing and as a bilingual educator. Tania loves to travel, meet people and create connections with other cultures. She is also an artist who has explored various disciplines such as installation, performance, photography, poetry, visual and conceptual art. She is interested in the consciousness of our personal and collective memories, stories and backgrounds. She has explored different points of view on human identity by digging into several social issues thought her art.
Victor Martinez, Board Member, Owner of Mar Electric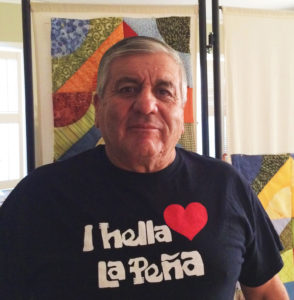 Victor Martinez was born in Coquimbo in Northern Chile. In 1966, Victor joined the Chilean navy after finishing the 9th grade. At the age of 16 he began to study electricity and graduated as an electrical technician. During the 1960s Victor became interested in politics especially with the rise of Salvador Allende. Victor began working with the M.I.R. (Movimiento Izquerido Revolucionario)in 1973. He was arrested after the military coup of 1973 and spent three years in a concentration camp. He was expelled from Chile in 1976 and arrived in the SF Bay Area. Victor has worked in Chilean solidarity movement as well as with Nicaraguan and Salvadoran solidarity groups in Oakland, San Diego, and Los Angeles. Victor is the owner of Mar Electric, a licensed electrical company. He has donated his services to La Peña since 1976 and has remained connected to La Peña and the Chilean exile community.
Gino Pastori-Ng, Board Member, Co-Director of Youth Seed
Gino was born and raised in Oakland, California, a city that provided profound life lessons on culture and social justice. The powerful connection between the former and the latter was illuminated throughout his childhood at La Peña Cultural Center in Berkeley. His formal education took place at UC Santa Cruz, where walks through the forest cultivated a passion for environmental stewardship, and a summer abroad in Barcelona inspired an insatiable appetite for travel. After completing a B.A. in psychology, Gino spent 2 years in South America and Asia, teaching English, learning Spanish and Portuguese, attempting to learn Mandarin, and photographing everything in between.
In his hometown, he supported the launch of a new elementary school in East Oakland and educated thousands of California voters about environmental action before finding his calling in youth social entrepreneurship. Based on the belief that the people most impacted by the problems are the ones best equipped to create innovative and sustainable solutions, he has spent most of the last 5 years supporting Bay Area youth to launch their own social enterprises. As co-director of Youth SEED, he continues to unite his passions for social justice, environmental awareness and youth development to inspire the next generation.