About
La Peña is a vibrant non-profit community cultural center with a global vision that has promoted social justice, arts participation, and intercultural understanding for over 42 years. As an internationally recognized gathering place, we support a multitude of cultural traditions, support progressive movements, and keep alive peoples' cultures through community events, performances and classes rooted in Latin American cultural traditions and beyond.
A check of our calendar on any given day might reveal international or local performances, adult and children's classes, community events, social justice organizing, and much more.
La Peña was started by a group of Latinos/as and North Americans as a response to the military coup in Chile that overthrew the democratically elected socialist government of Dr. Salvador Allende on September 11, 1973. La Peña opened its doors in June 1975 and has been thriving ever since.
Today our focus is on supporting our new 21st century cohorts of leaders in arts activism in one of the most racially and ethnically diverse metropolitan areas in the United States.
Mission
Our mission is to encourage creativity, promote dialogue, share knowledge, and build community capacity for social and economic change. La Peña's educational philosophy stems from the cultural and political traditions of its founding: interconnectedness among cultures, cooperative efforts, arts expressions, and solidarity among communities.
Our distinctive programming brings together community leaders, educators, and activists, as well as teaching artists, professional and student musicians, dancers, poets, and muralists to participate in indigenous "roots art" forms from the Americas and the African diaspora.
Our activities contribute to building civic engagement in a democratic society. In our work, we practice the egalitarian and collective practices that we hope will build a more just society in the future.
Classes at La Peña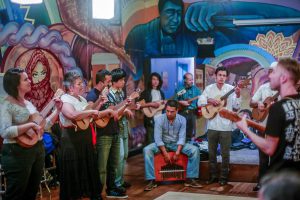 La Peña is a cultural homeplace where every week, toddlers, children, teens and adults study the musical and performance traditions that have nourished struggles of resistance, sustained cultures, and contributed to the well-being of communities. These roots performance traditions have managed to flourish despite long and complex histories linked to colonialism in the Americas that led to censorship and neglect. They have often been excluded from mainstream recognition by official histories, public radio, and school music curricula. Roots Arts classes encourage us to think beyond consumer approaches to performance in order to become producers and creators of our own culture. These inherited traditions have often thrived for centuries underground. They can also be revolutionary, thought-provoking, healing, and inspiring.
Our class selection throughout the years reveals the extension of the communities we serve, including classes in: jazz, folk, nueva canción, blues, flamenco, tango, plena, rumba, son jarocho, West African dance, capoeira Angola, salsa, bomba, samba, forro, Afro-Peruvian cajon, and hip-hop classes and performance.
[Click here to see our current classes]
Events At La Peña
La Peña has always been an internationally known performance center. Every year, we host or present over 200 music, dance, theater and spoken-word events; art exhibits; book talks; and public dialogues. Focusing primarily on the arts and progressive movements of the Americas, we've featured up-and-coming local artists as well as internationally known figures like Pete Seeger, Lila Downs, Pablo Milanes, Roy Brown, Mercedes Sosa, Paco de Lucia, Atuahalpa Yupanqui, Taj Majal, Holly Near, Sweet Honey in the Rock, Grupo Raíz, Quilapayún, Inti-Illimani, Los Folkloristas, Marc Bamuthi Joseph, Ana Tijoux, Muñequitos de Matanza, Eddie Palmieri, Bomba Estereo, Rebel Díaz, and Quetzal.