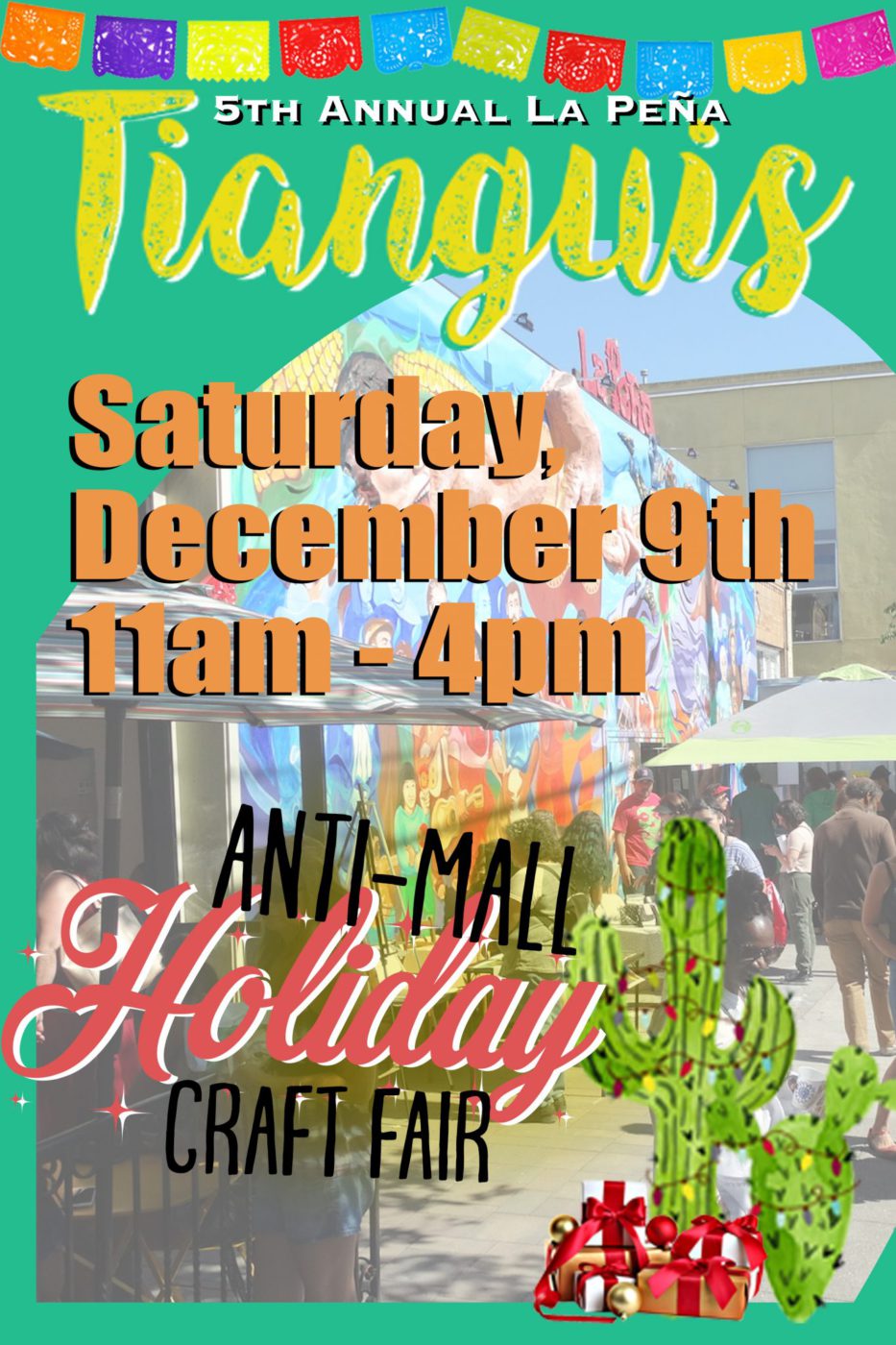 Avoid the mall and support your community this holiday season! Come find the perfect handcrafted gifts for sale by local vendors as well as unique imports from Mexico and beyond!
Come hungry to enjoy yummy food from local vendors while you shop!
A tianguis is an open-air market or bazaar that is traditionally held on certain market days in a town or city neighborhood in Mexico and Central America. This bazaar tradition has its roots well into the pre-Hispanic period and continues in many cases essentially unchanged into the present day. The word tianguis comes from Nahuatl, the language of the Aztec Empire.
WHEN: Saturday, December 9, 2016
TIME: 11AM-4PM
COST: FREE! (Bring cash for food, arts, and crafts vendors)
WHERE: La Peña Cultural Center 3105 Shattuck Ave. Berkeley, CA
(Located just TWO blocks from Ashby Bart Station)
– – –
EN ESPAÑOL:
¡Evite el centro comercial y apoye su comunidad esta navidad! ¡Venga a encontrar los regalos artesanales perfectos que estaran a la venta por vendedores locales, así como también importaciones únicas de México y otros paises Latinoamericanos.
¡Venga con hambre a disfrutar de la deliciosa comida de los vendedores locales mientras compra!
Un tianguis es un mercado al aire libre o bazar, tradicionalmente se encuentran en las calles durante ciertos días en vecindarios y ciudades de México y Centroamérica.
Esta tradición tiene sus orígenes en la epoca prehispánica y en muchos casos ha permanecido intacta hasta hoy en día. La palabra tianguis viene del nahuatl, lengua del imperio Azteca.
FECHA: Sábado 9 de diciembre de 2016
HORA: 11:00 am a 4:00 pm
COSTO: GRATIS (trae dinero en efectivo contigo en caso de que quieras comprar comida, arte y artesanías de los vendedores locales)
LUGAR: La Peña Cultural Center 3105 Shattuck Ave. Berkeley, CA 94705. El lugar se encuentra justo a dos cuadras de la estación Ashby del transporte BART.