Free Event / Donations Encouraged
This critical thinking-focused organization meets Every Second Thursday of the month with a different topic and guest speaker for every conversational meeting.
October 12th's meeting's topic is:
"Hurricanes and Heat Waves: Is This Climate Change?" by Dr. Brad Hoge Director of Teacher Support  at NCSE.
This talk will focus on two questions. 1) Are Hurricanes Harvey and Irma, and the recent heat waves and extreme weather events in California the product of climate change? 2) If they are, how should they influence public discussions and teaching of climate change? To answer the first question, we must know what the predictions of extreme weather events from climate models are, and how these predictions are generated. Is there a consensus among climate scientists that extreme events are more likely? How much more likely are they? And how extreme are Harvey, Irma, and the California heat wave? Ultimately, how do we connect the dots? If a connection is made, how useful is this information for public discussion? Will the conclusions of climate scientists be more convincing due to the dramatic impacts of these events on people's lives, or are we being "insensitive"? Is it a good idea to use these events as examples of the impact of climate change in classrooms, or is it misleading and inappropriate pedagogically? This talk will answer these questions, and will present some perspectives from teachers in Houston and Florida who are on the front lines.
Speaker's Bio: Dr. Hoge earned his PhD in Ecology and Evolutionary Biology at Rice University in 1994. His dissertation applied analyses of wetland biogeochemistry and paleoecology to models of sea level rise. He taught biogeochemistry and coastal studies at the University of Houston – Downtown before coming to NCSE. His research at UHD focused on restoration ecology, looking at edge effects on diatom community succession trajectory in mitigation wetlands. He has held joint appointments in the UHD Department of Natural Sciences as a scientist and a science educator, and was Director at HUNSTEM, the Houston Urban Network for STEM. He also has a M.Ed. from Texas A&M University, and
was a classroom teacher before joining UHD. Dr. Hoge has also worked at the Children's Museum of Houston, and on many other creative projects in STEM education. He joined NCSE this summer, and is excited to be a part of such a meaningful organization.
ABOUT BAY AREA SKEPTICS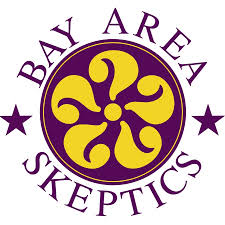 Bay Area Skeptics was founded in June 1982 as the first "local interest group" inspired by the Center for Scientific Investigation of Claims of the Paranormal (CSICOP), now known as the Center for Scientific Inquiry (CSI). Although they have overlapping interests with CSI, BAS is independent of all other groups.
The organization encourages critical thinking and accuracy in the media and in our schools. They encourage rational thought and critical thinking through the use of scientific methods. They are particularly interested in such topics as claims of the paranormal, pseudoscience, and untested or poorly tested medical and psychotherapeutic practices