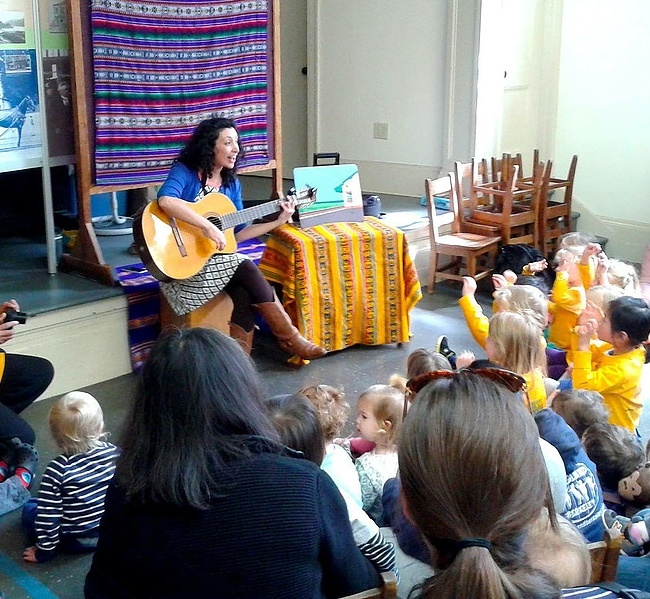 $15 per family
This educational event for children and their families is based on folk songs, tales and popular games based on cultural traditions from various regions in South and Central America. 
"Mariela's Music Time is an educational, energetic and interactive bilingual performance for infants, toddlers, and preschoolers and their families. It's filled with rhythms and multicultural sounds, along with with the rich traditions of our Bay Area. For the past decade, Mariela has drawn upon her background in music and studies of Early Childhood Education to create a program that not only explores the music, but also addresses the kids' curiosity by telling the history of the instruments and their cultures. She uses kinesthetic techniques in her bilingual storytelling to make foreign words understood. In no time, the kids are singing in another language as they dance and have fun!" – San Mateo County Libraries
Goals: Invite the new generation to learn and enjoy Latin American Culture. Experience social exposure in a fun and participative way through popular rounds, popular games, retahilas, folk songs with Latin-American roots.
Introducing children to music at an early age to encourages a life-long love of music as an art form. Encouraging them not just to sing, dance and play music, but also to understand some of the aspects of our multicultural traditions by exploring different instruments, rhythms, sounds and soul.
Teaching folk dance, interacting, and engaging with the act of making music is an important step in child development. It is a good early appropriated developmental way to unfold their physical abilities and coordination. It is also important for them to enjoy physical exercises. Folk dance teaches basic concepts of rhythm, repetition, sequencing, patterning, predictability, anticipation, musical cues, auditory discrimination, and counting.
Children will be exposed to a multicultural understanding of different historical and social time periods. They will to learn how to appreciate all cultures, nations, and how people are connected and interrelated .
About the Instructor
About the teacher: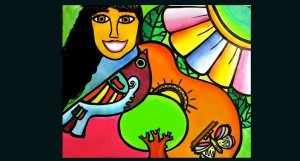 Mariela Herrera was born in Santiago de Chile and was motivated to sing and dance since her childhood. She was part of a children's folk group called Los Maipucitos for more than eight years. She learned about native dances and music, and played guitar, harp, flutes from Los Andes, and percussion instruments. With Los Maipucitos, she enjoyed traveling and performing in countries such as France, Germany, Ukraine, Holland, Poland, Belgium, Mexico, Argentina and others. She also joined BAFOCHI(Folkloric Ballet from Chile), and the Arte Chile dance company. She studied traditional Chilean culture at the Catholic University of Chile and took theatre courses at the University of Chile.
In the US, she has participated with the groups Araucaria (Chilean dance),Jaranon y Bochinche and De Rompe y Raja (Afro-Peruvian folk).
She is currently a student of Early Childhood Education. She moved to the East Bay ten years ago, and since then has created a career as a dancer and a musician for kids. She is well known in the community, especially in libraries, museums and cultural centers where she dances, teaches and plays with kids. Her creative spirit has inspired her to keep teaching different melodies that connect cultures with the learning process in this amazing multicultural community named the Bay Area.
Her biggest desire is to continue using music as a vehicle to pursue the cognitive development of children.